Overview | How to Use | Science
Soothing Relief

Drug Free Alternative

Safe Relief from Sprains, Strains, Toothache, Menstrual Discomfort, Migraines and Headaches.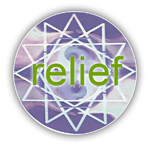 Miracle Balance Relief Management™ A safe, non-transdermal holographic data disc that activates acupuncture meridians to give you fast, effective relief. Acupuncture without needles.
Get the relief you want without the use of harmful drug or chemicals. Each of our holographic Data Disc's™ uses a revolutionary new approach for guaranteed fast, effective non-transdermal relief. Tested and Studied at Universities in the USA and proven to aid recovery and relief.
Non-transdermal means no substance goes in your body! No Drugs, No Side Effects and Nothing Addictive. Just peel and stick on the area needing Relief management™.
Relief Management™ is safe and effective and can rescue you from:
Muscle Strains & Sprains
Sport Workout Aches
Joint and Menstrual discomfort
Migraines, Headaches and Toothache
Tendonitis, Tennis Elbow and Carpal Tunnel Syndrome
Each pack comes with 2 months' supply, two strips of 8 discs. Each disc if applied to the point of discomfort will last 6 days and then need to be replaced as the sticky wears out, although the disc is still functional, tape can be placed over the discs for longer use.
Check out our Discs Frequently Asked Questions
How to Use
 Easy to use:
• Peel and stick disc to area requiring relief. Clean the skin prior to adhering disc. Depending on skin type , you may need to add tape over the discs. It is best to clean the skin with hydrogen peroxide, this helps the disc adhere better, in some cases people have used medical tape to keep on longer. The discs last until the ends curl up so in essence could get multiple uses from the discs. Each disc should stay on for up to 6 days.
• Stay hydrated for maximum effectiveness. For optimum results use pure water that is not contaminated with chlorine, fluoride and other substances.
• Each pack comes with a full 2 month's supply. Adhere the disc to the affected area, you can shower and swim and leave on for 6 days before taking one day off, and then start the 6 day cycle again.
100% Product Guarantee: We stand behind the quality of each of our products with 100% satisfaction guarantee
Science
Our revolutionary holographic Data Disc™ marries traditional Chinese medicine of acupuncture with a state-of-the-art holographic delivery system. The disc activates the body's meridians thereby creating a healthy, balanced body. The convenient Relief Management™ disc starts to ease discomfort almost instantly by working with the whole body, combining cutting edge holographic technology and activation of your acupuncture points by way of your bio-field.
Immediately upon wearing the Relief Disc the Zeta potential is restored and the cells separate by taking on a natural negative charge from the holograms. This results in an increase in circulation which immediately aids in relief. It increases each cells ability to increase oxygen uptake, H2O. and nutrients, as well as removal of metabolic waste without negative side effects.
Read more about the science behind holographic discs in our SCIENCE section.
Disclaimer
Use of caffeine and other stimulants can delay effectiveness of the Holographic Disc. If you have been taking drugs or chemicals you will likely experience a detoxification effect (increase urination and/or body odor). Increase your intake of non-fluoride –mV water.
These statements have not been evaluated by the food and drug administration. For external use only. Do not ingest. Remove immediately if you feel discomfort or skin rash occurs and increase intake of non-fluoride, -mV water.
These guidelines are solely for educational and informational purposes. The information is no way intended to be medical advice. Please consult a medical or health professional before you begin this or any health program, if you have any questions or concerns about your health. Mbdisc are not intended to be used in the cure, treatment or prevention of disease in man or animals. Individual results will vary.